Orthodontics Woodland Hills Q & A
Does Dr. Shokri offer traditional braces?
Yes. Dr. Shokri offers a full suite of orthodontic services that includes expanders, Fastbraces®, Ortho-Tain®, traditional braces, and Invisalign® braces. Her services are geared towards early treatment of children ages five or older and for adult patients who would like to improve their smile. She uses a 3D imaging system to fully understand the location of her patients' teeth and special software to determine the path the teeth need to travel to reach their correct position. These images also reveal if any teeth are impacted or need to be removed for orthodontic treatment to be successful.

What are the advantages of Invisalign®?
Invisalign® braces have many advantages including being nearly invisible while on the teeth. Another great advantage of this treatment is that the aligners are easy to remove briefly for eating and daily hygiene. Their construction is of hard plastic that is molded in such a way that it snaps over the upper or lower sets of teeth. Another benefit is that Invisalign® helps you improve your oral health by making it easier to clean, brush, and floss your teeth when compared to traditional braces. When it comes time to brush, floss, and care for your mouth, you can just snap the tray out and proceed. This process helps you prevent cavities, gum disease, and bad breath. The aligners do need to be worn for 22-23 hours a day for full effectiveness.

What makes treatment with Dr. Shokri unique?
Dr. Shokri wants to make sure that you are as healthy as possible both in your mouth and teeth and throughout the rest of your body. She works with you to correct the alignment of your teeth to improve your smile and your dental health. When your teeth are incorrectly aligned it can cause problems ranging from issues with your temporomandibular joint to digestion and weight gain, as well as excessive wear and tear of your teeth. Dr. Shokri takes a holistic view of your health and will ensure that you have the knowledge, recommendations, and referrals to make the best possible choices for dental and orthodontic care.
FASTBRACES®
FASTBRACES® Technologies, a true American original, is celebrating its quarter of a century anniversary of helping dentists straighten teeth now in almost 50 countries. Teeth are crooked because they didn't erupt properly and came in tilted, sideways, overlapping or spaced apart and, as a result, they are not upright. FASTBRACES® Technologies high performance bracket systems upright the roots of the teeth from the beginning of treatment with just one square wire by torquing and tipping them from the very first appointment. Treatment time for comprehensive orthodontic therapy should take more than 120 days with the FASTBRACES® CLASSIC™ SERIES™ and could take less than 120 days for non- deep bite cases with the FASTBRACES® TURBO™ SERIES™, depending on the patient cooperation and clinical experience of the treating dentist.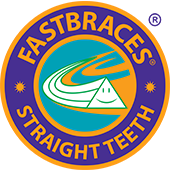 Dr. Mojgan Shokri a proud FASTBRACES® provider:braces technology that is fast, safe and affordable.
Ortho-Tain®
Ortho-Tain® Preformed Positioners™ provide retention and corrections in cases for orthodontics Woodland Hills. They are used for finishing orthodontic cases or after orthodontic treatment. The Ortho-Tain® Positioner™ maintains overbite and overjet correction at the same time, while maintaining tooth alignment and perfect Class I Intercuspation.
The Ortho-Tain® Positioner™ can shorten active treatment by 2 and 6 months, while correcting up to 3 mm of overjet, molar relations, coordinate the arches and intercuspate the teeth. Save time with the Ortho-Tain® Positioner™ because it requires no lab work, impressions or adjustments. Only one measurement is needed to fit your patient for an Ortho-Tain® Positioner™.

Before and After Images of Ortho Patients

Early Treatment
When teeth are crooked, crowded or misaligned, orthodontic treatment is used to achieve an occlusion, or perfect bite. Through various orthodontic appliances, pressure is continuously applied to move teeth into the correct position.
Since so few of us actually have perfectly aligned smiles, just about everyone can benefit from an orthodontic exam. It is highly recommended that your children receive an orthodontic consultation by the age of 7.
Adult Treatment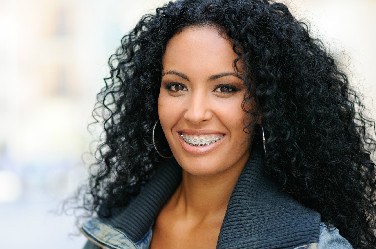 Your smile is the first thing people see. And as we all know, first impressions are crucial. So if you've ever wished for a straighter smile braces might be for you.
But braces don't just improve the look of your teeth; they also keep your teeth healthy. When your teeth are straight, they are easier to keep clean. Flossing, brushing, and mouthwash are much more effective when your teeth aren't overly crowded.
At our office, we have different options to fit each patient - come in for a consultation and together we'll decide what's right for you.
It's never too late to straighten your smile. Adults and teenagers alike can get the smile they've always wanted. Call us today and improve your face value!
Expanders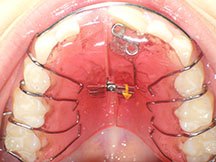 An upper jaw expander is a molded plastic and wire device fixed to the roof of the mouth. A key is used to widen the expander on a nightly basis until treatment is complete, which usually takes about one year. Once the desired width is achieved, the expander is replaced with an orthodontic retainer.